Today we took Skeeter to Niagara Falls (we live about 12 minutes away), as it's one of the only places that doesn't make his skin and eyes itchy and red (plus there are very few dogs for him to snarl at--although there were TWO today, neither of which he gave a damn about). There is one part on Goat Island that my boyfriend and I like to always go to, and everytime we bring Skeet there, he likes to hop in, lay on the rocks, and hang out in the water and watch the duckies. Today, however, his foot slipped and he went face first into a hole full of water! He still managed to hop back in after shaking off for about ten minutes.






Skeeter and his daddio, before we left for the Falls. It's so weird how he LOVES being held like that, but he makes evil faces while we do! He like finds a way to roll over on us so we hold him that way and rub his belly. He's hilarious.




Skeeter hanging out under the bench. We had only walked for like, 5 minutes at this point (and we were there for about 2 hours, and he was already being a lazy-bum).




Skeeter, post fall-in.




Goat Island.




Skeeter giving the water a second chance.




He sees a ducky!




He sees daddy!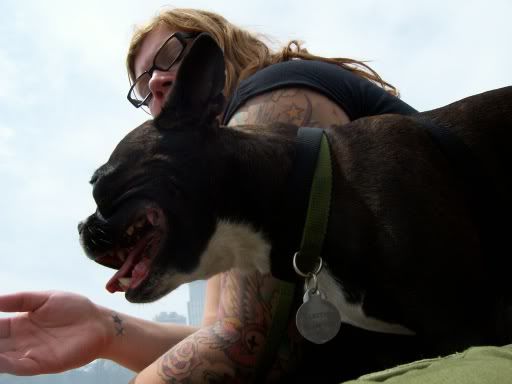 Hanging out by the Horseshoe Falls.

Such a fun day!! Now he's snoring like a little old man, and farting awful fumes in my face. Jerk.