This first one is actually of Jasmine and my son, Andrew. She was sitting in front of the furnace this winter and Andrew asked me why. I said, "Well, she's old and she gets cold." So he took her a blanket and sat down with her. He loves our girl. Her name was one of the first words he learned to say. It has evolved from "Jagdem" to a brief stint of "Shash" (I call her Sassafrass as a nickname, because she's sassy) and now he says a clear "Jasmine."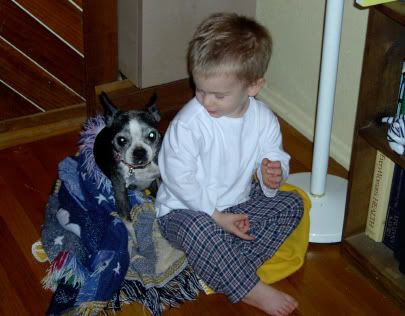 Here is Jasmine sassin' me...



I took this picture because I thought she looked so cute and small. She's getting all old and grandma-ish.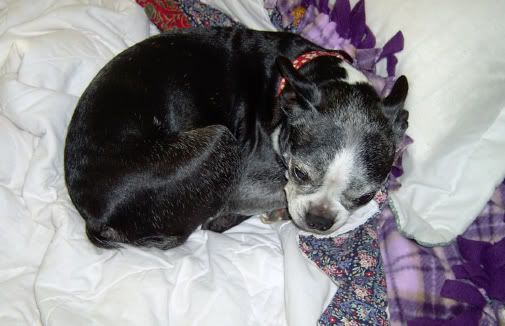 Here's a sweet one from when my son was just learning to crawl.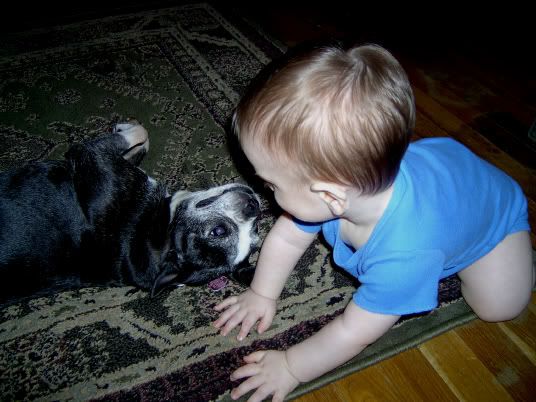 (obviously these are not in chronological order)

Here is when my son was just about a year old. Jasmine is saying, "I know I'm not quite as interesting as a hose right now, but I'm not chopped liver. Look at me!"



This is a recent one of Jasmine and her ball.



And this one was taken on the same day, and I have a user pic made from it. I think it's a sweet little picture of my girl.



Finally, this is more a picture of me and Andrew, but I just think it's cute how Jasmine stays close to the pack. There are tons of pictures of us with a little dopey black head in one corner or the other.