we woke up in the middle of the night to pouring rain, but by the time got up, the sun was OUT... which meant aston's party was ON!! we were SO worried that we would have to cancel it. thank you, oh, weather gods, for making the day fabulous for our furbaby so he could celebrate with his doggie friends!

here are some detail pictures of aston's 1st birthday party! it was SO fun putting everything together. we had a fabulous turnout! aston's SUCH a lucky boy!! my dh joked that he had more friends than he did! LOL. everyone who said they'd come - all came! it was so great to see everyone. some other people at the park didn't believe that it was a birthday party. LOL. the only snafu was that the dog toys we ordered didn't arrive on time (for the favor bags). but other than that, aston's birthday celebration was so much fun!

and if you aren't tired of seeing videos of Aston, I also made a birthday party video! heheh.
http://www.youtube.com/watch?v=EorahJqbAxg



these are the invites I designed and created to match his army theme. i used them in an evite and also printed hard copies.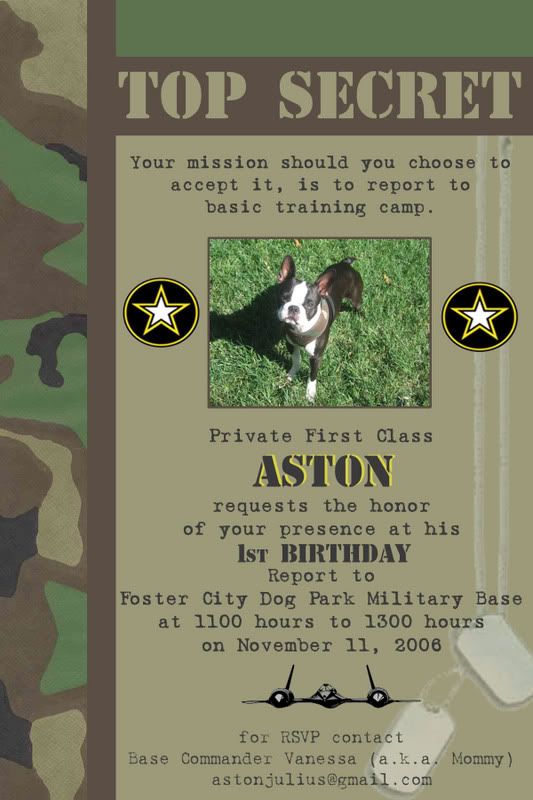 every dog got some treats! the label says "Aston's 1st Birthday/ 09 November 2006"
the treats were put in this TOP SECRET goodie bag and we also stuffed it with a rope toy. we had other toys in mind, but those are the ones that didn't arrive on time. but it worked out well anyway.
birthday banner
we also set up a table (with camo table cloth of course) with food to feed our guests!
family photo
aston with all of his goodies from all of his friends! he even got something in the mail from darlene and the brats!! what a lucky boy!
i just had to include this picture.... doesn't he look like george burns? LOL! (sweater from nelly and plummie and the treat is from my other friend. he wouldn't let go of it! hahah)