Hi! I just found this community and I wanted to introduce the newest member of my family's little pack!

April is a 2 year old Boston Terrier adopted from our local Humane Society. She thankfully only spent a couple of nights at the shelter (long enough to get kennel cough of course) before she found us. My brother has wanted a Boston Terrier forever and so although we all live together, she is technically his dog.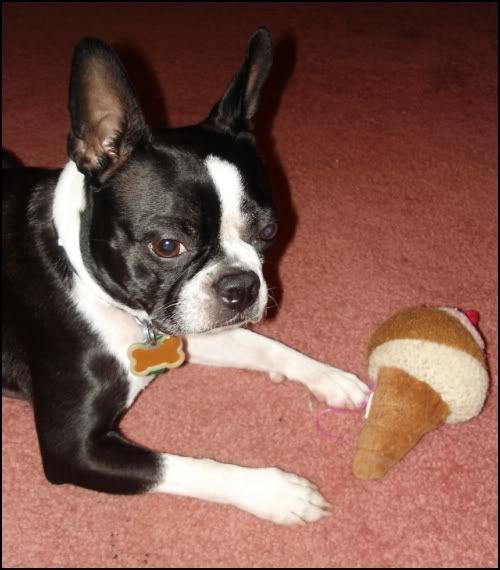 She came to us very fat, with runny, bright red eyes full of gunk, sores on her legs/paw pads from the bleach they used to clean the kennels at the shelter, and kinda crazy. Supposedly she was surrendered by an elderly couple in which the wife had a stroke and had to be hospitalized and the husband didn't know what to do with the dog. I have since spoken to several people who adopted from the same Humane Society and the majority of them were given the same and/or a variation of the exact same story we got...




Shortly after we got her the nickname Snorkles emerged. When we brought her home she had raging kennel cough and would make awful coughing/snorting/sneezing noises along with the usual Boston Terrier snorting-excited noises. My mom would tell her to "stop snorkeling" and it kinda stuck from there. On any given day she is called April, Snorkles, Snorkelina, Aprilina, and most recently I've been calling her Sprinkles/Sparkles which my brother hates. :)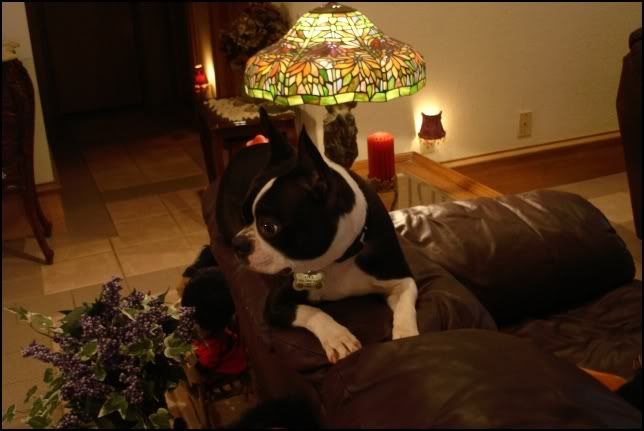 Since adopting her we have made enormous progress with her horrid leash-walking, toy aggression, and frantic play-style. She has learned that making demon noises and screaming like a devil does NOT get the other dogs to play with her. Nor does it get us to play with her while she's got a toy. She is a very quick learner and has fit in quite perfectly in our routine. We've smoothed out *most* of her rough edges (we can't help the fact that she's the only long-legged dog in our family who can actually put her paws on the kitchen table!) and she really is a joy to be around. She gives the best + most kisses of any dog I've ever met and she will literally hop 4ft straight up in the air when she gets excited.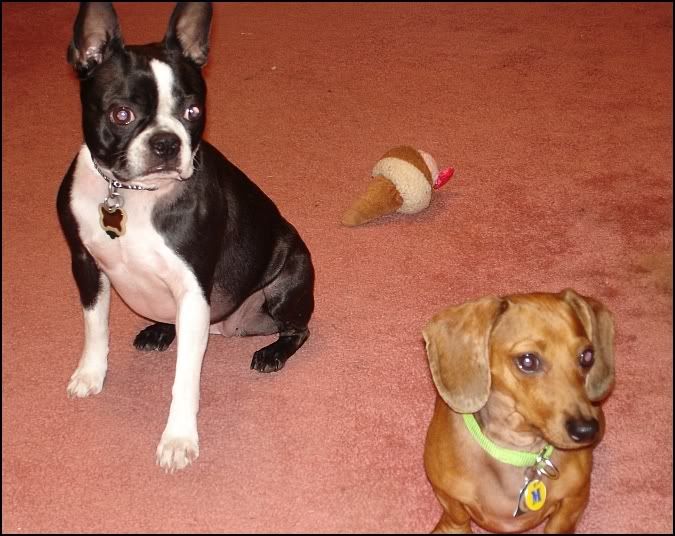 (with my dog, Mackenzie - 4yo dachshund)

She is extremely athletic and loves to hop and jump and run like a race car all over the yard. We are looking forward to starting training for either obedience/rally or agility in the near future. We just have to build up her stamina first. :)


***EDIT: to not neglect the other silly pups in my household:

Mackenzie (my heart and soul): 4yo miniature dachshund
Spencer: 2yo Scottish Terrier: April's toughest conquest - he's still not too keen on her, but then again he just *acts* like a tough guy.
Beethoven: 15yo Lhasa Apso - as senile as he is now in old age, April adores him. She gives him kisses every morning and greets him politely every time she sees him.


I look forward to seeing all of your wonderful pictures and getting to know the breed better. :)