HI GUYS!
I just trust you more than any other community and you are a whole lot nicer.

We just had a very sick puppy land in our laps last night. he was wiggling and friendly last night but by this morning he was just lethargic, vomiting and had explosive poo. he wouldn't eat or drink at all so we were really concerned.

after a very expensive vet appointment this afternoon, we found he has "coccidia" and he is being dewormed but they didn't think that all this would come from him just having a protozoa. they gave him iv fluids and sent me home with a bag to do daily. they gave him a shot for nausea, which is new but she said "highly effective" over and over. he perked up enough after the IV to nip at the vet when she administered the shot because it hurt. and to walk away while they were administering the de-wormer.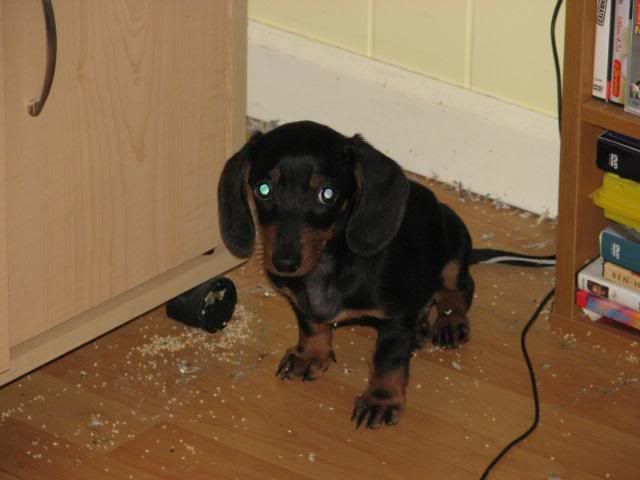 NOT A BOSTON!

we found him in the street yesterday in a rural area, I'm going over there tomorrow to see if anyone lost a puppy but the vet seems to think that someone.. "lost" him.

there is the lingering thought that it is parvo. which concerns me because my dogs are around here. we are keeping them away from each other the best we can, bleach-watering the areas he goes in and the dogs are up to date on their shots so they should be fine.

has anyone had a dog with parvo here? what about this specific worm?

I just can't stand the thought that every time I go and check his kennel he could be dead. he is so sweet.

he is about 9 weeks old, 4.5 lbs, and purebred doxie. if he survives and no home is located then we will probably be adding him to our family.

I'm just scared about vet bills. if its parvo I don't think we can afford treatment.

I was just looking for advise, I know you aren't a Dachshund community but I love you guys and you've always helped us in a bind before!