I haven't updated any of you since I got my puppy! We decided to call her Deidre, and we call her Deedee. She is an absolute MONSTER, she screams like a banshee if you stop paying attention to her for ONE SECOND! She is ruining my velvet beaded tree skirt cause it's her favourite place to go poopies (and it's trimmed with feathers, which aren't faring well either) But she is very smart, she's learned no, she's pooping and peeing outside, she is very happy and adores Sam, crying if he goes out without her. She is not an under the covers boston, she likes to lie on your face, or preferably on your neck. She is like a mini boston, and what I mean is, she's not all chunky or fat or gangly like a boston baby, she is perfectly proportioned like an adult, My mum thinks she might turn out really small, since it seems like there's not much more in her to grow. Her tail has grown longer and it waggles :) SO here's all the Christmas snow pictures you've been missing (Snow, in VICTORIA you say? Yes, it's a Christmas miracle!)

Deedee in her recent Christmas present from Nana, a blue sweater with crystal snowflake accents and a boa collar. And though I may be biased, you can see just what a pretty Boston she is...




Deedee poses by the tree in her Santa outfit from Claires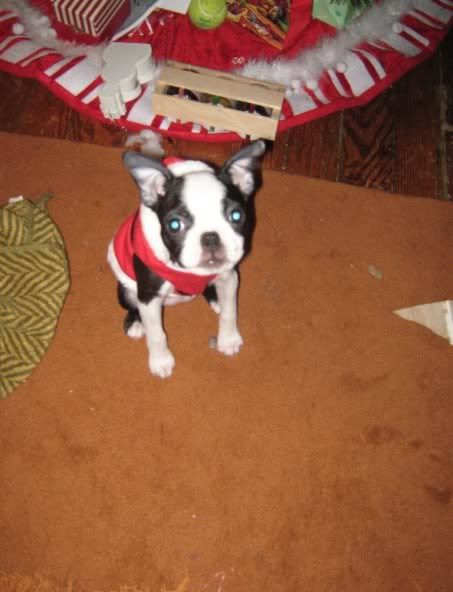 Fur trim and sequins, how lux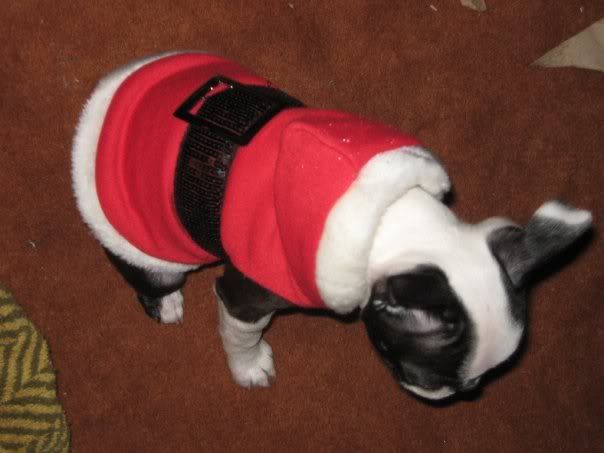 We got a blizzard here, so me and my neighbour took the dogs out to explore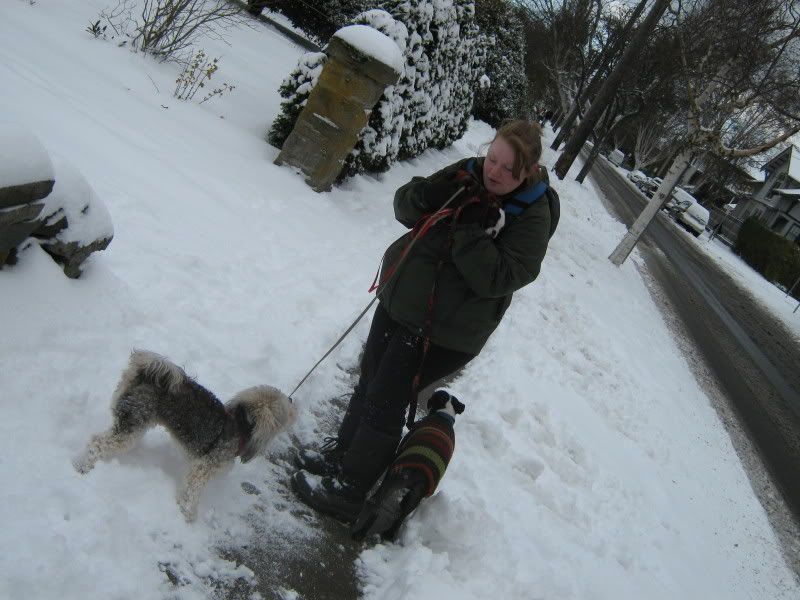 We went to visit the senior home where I work on the dementia floor. This is my best friend Angie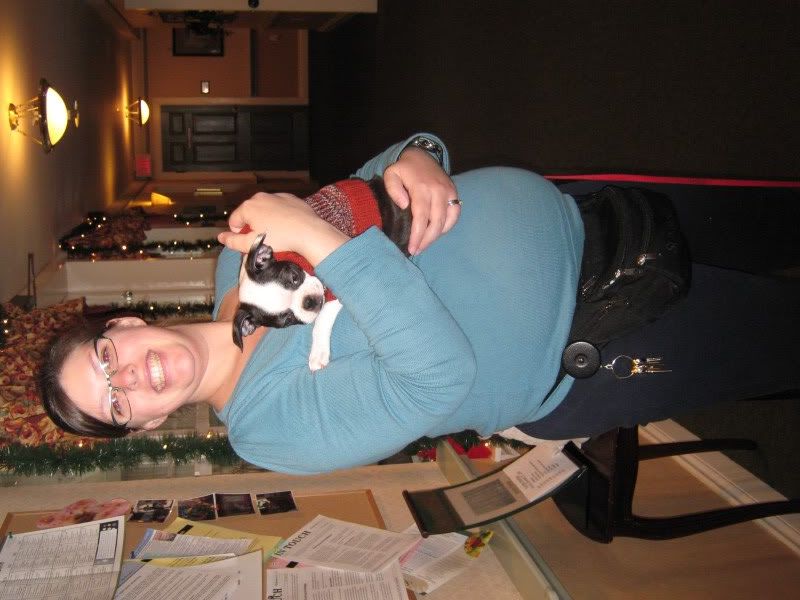 Angie and Pat really liked Sam, who was handing out kisses all 'round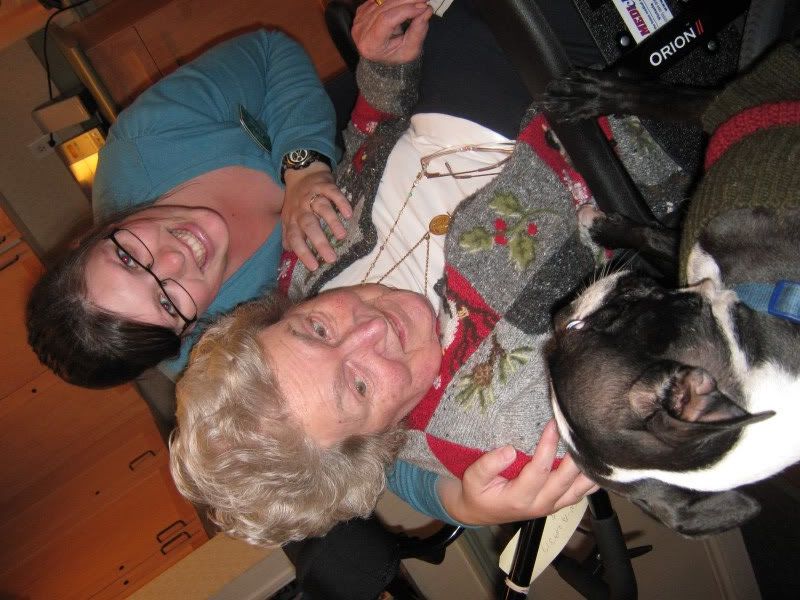 Frankie discovers the joy of Boston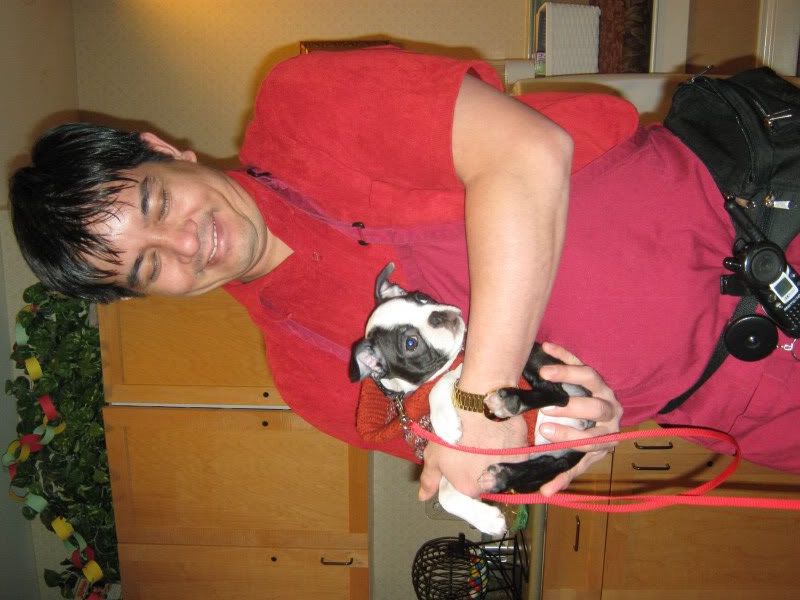 Shirley always asks to hold Deedee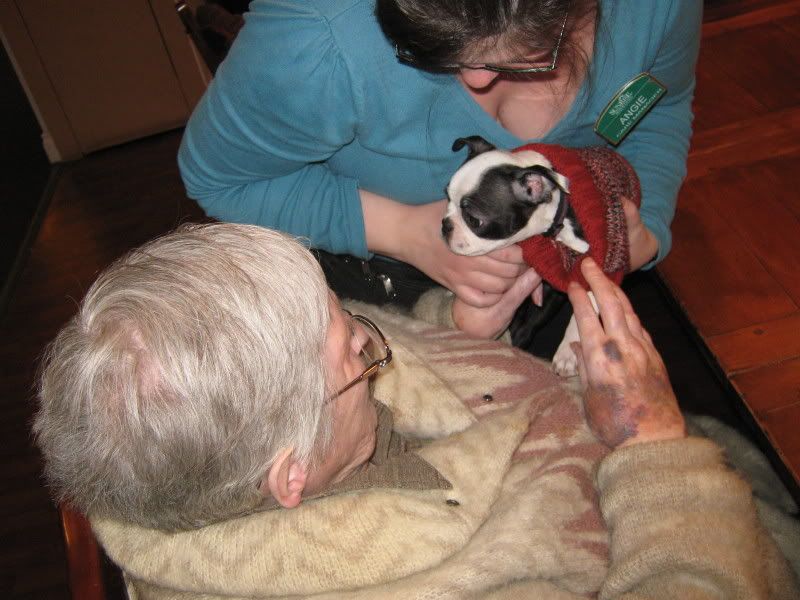 Carol comes from a farm, and says Deedee is very much like a piglet (in the most affectionate of terms)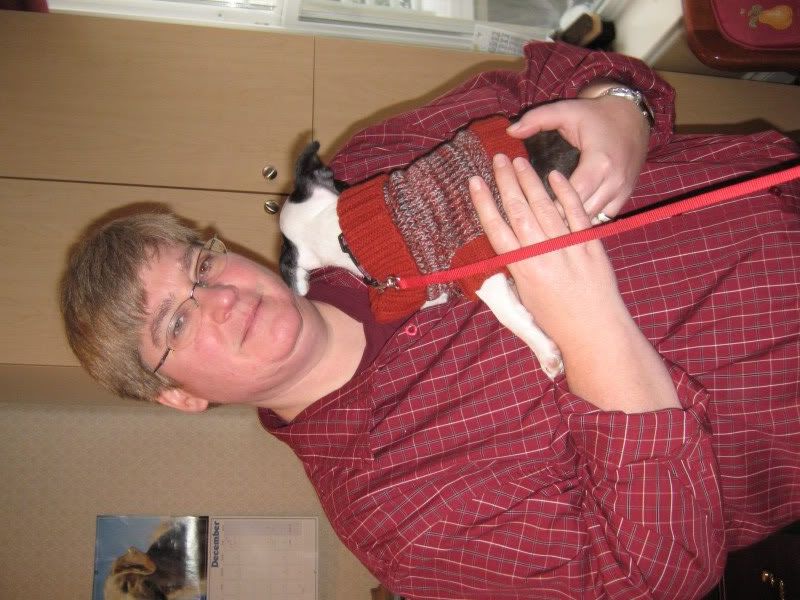 Angela has had Boston terriers all her life, and like me, has boston things all over her room. She was one of the first people to see Deedee and Deedee and Sam visit her often, since she wants a boston, but only has a cat now.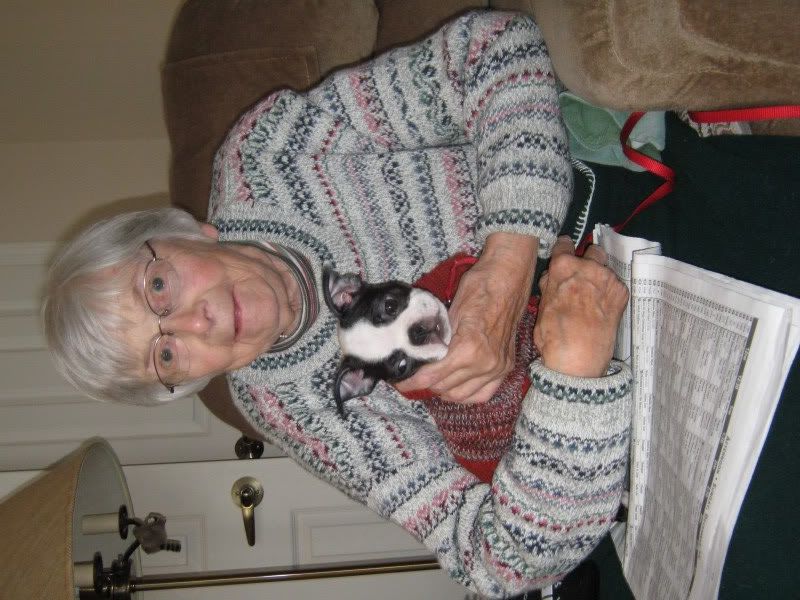 Deedee must have known Angela was a boston person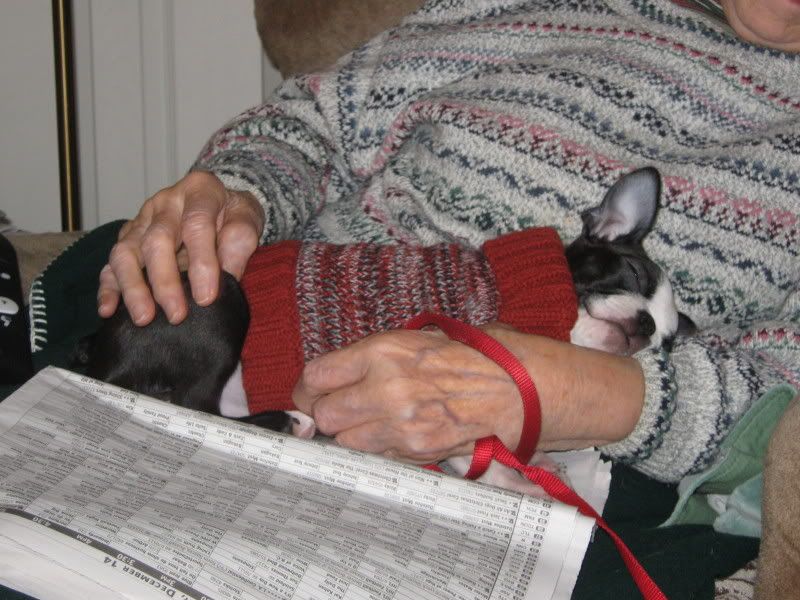 We're so stylish! With Sam in his handsome sweater and Deedee in her cowl neck sweater, also a gift from my Mum



I think we were warming each other up at this point. YOu can't tell, but we were actually having an artic windstorm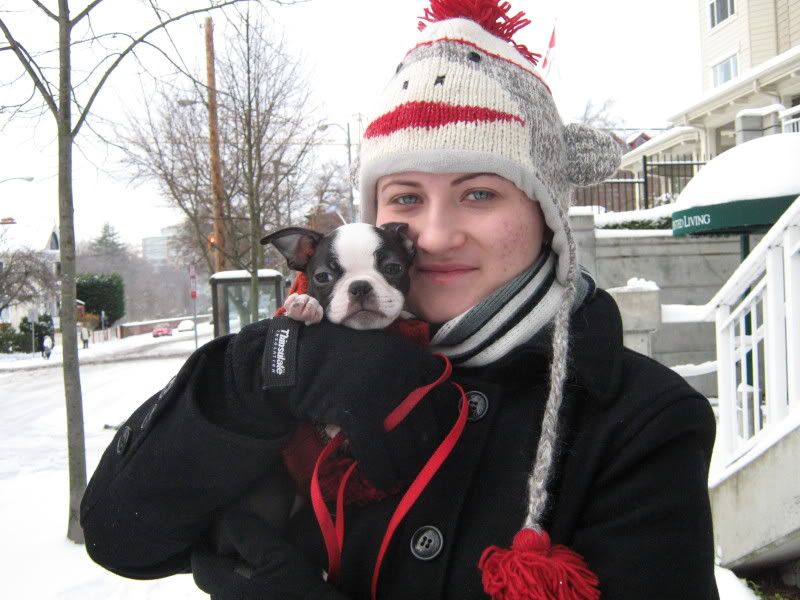 Walking on a LEASH in the SNOW like a BIG girl! WOW! And she peed too!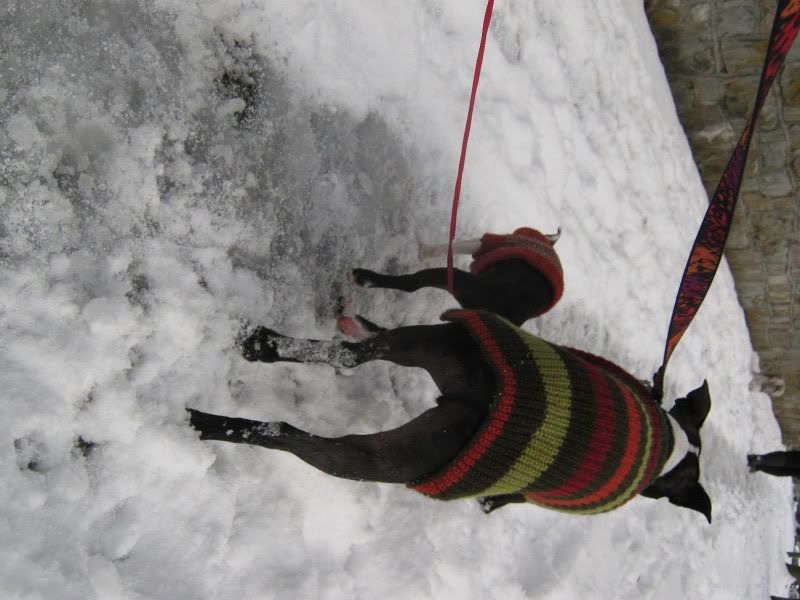 Of course we have to try some of this snow stuff...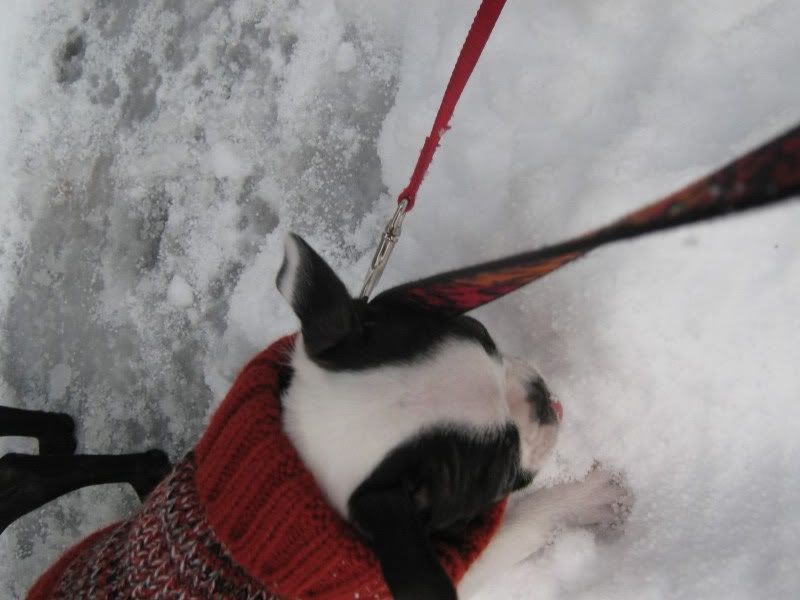 "Mummy, can we go home now?"