Well, my dog uses Skype. I am not joking, right now I am in school in NYC, and he is all the way in Virgina with my parents. So to keep my mom happy, I showed them how to use Skype so we can chat, and they can see my face. (I have a mac, but they have a PC so we cant use iChat to talk)
So for laughs my dad picked my baby boy, Kenshin up to for him to see me. The first time we did this, he freaked out, I had a feeling seeing my face in a odd box and hearing my voice with out being able to smell me did this, so we felt that we needed to give him some time before trying this again.
about two weeks later we tried again, and it all clicked to Kenshin, he gets it that I am not in the home, that its a 'moving photo' of me. Its so cute how he acts now when he sees me on the computer.

Here is screen caps from the first time he was calm about seeing me on the screen: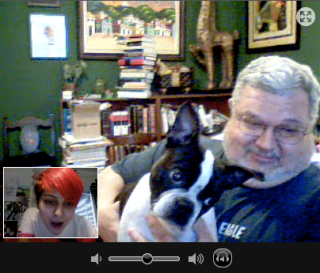 Kenshin: Is that Mama?!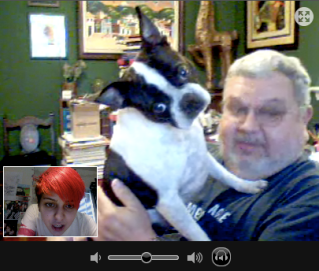 Kenshin: That is Mama!

This is from the other night: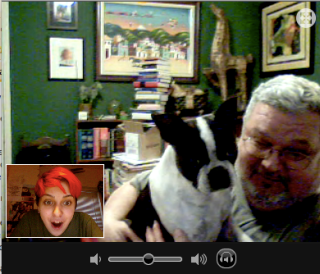 Sorry about how goofy I look in the corner, I was telling him over and over again that I love him and miss him lots.
I love every time I chat with my family on Skype now, cus I know I get to chat with my baby boy