Hey friends, I know its been FOREVER! I feel so neglectful. I am Amelie and Ninja's mom (the black and white female boston and the red and white male boston with the HUGE white head). I've been with this community for so long and I read all your posts, I just don't post myself as much as I would like to. However, I just wanted to put a really cute video that I thought you'd all enjoy...


The kids waiting to go to the dog park...so patiently.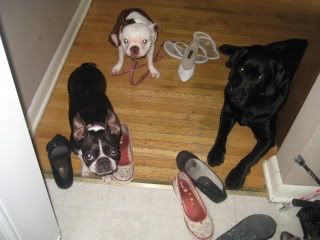 I take my dogs to the dog park every day and this is usually what they sound like at the end of their run. I was taking photos of them and then I decided to film them because they sounded so funny. The combination of panting and snorts is too cute.



This is the actual photo.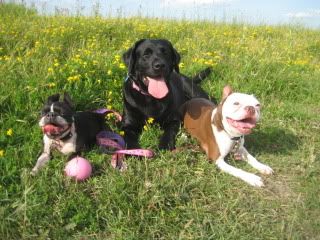 If you're wondering who the black lab is well here is her story...three weeks ago I rescued a beautiful black lab. She's 2 1/2 years old and I named her Moira. (her original name was Kenya, but considering she was abandoned by her previous owners I decided to change her name). Moira was left with the neighbors of her owners when they went on vacation. Moira waited and waited for her owners to come home, but they never came back. They took off and left her with their neighbors claiming they were going on vacation, when infact they were leaving and had no intention of ever coming back for her. Poor girl. When I saw her at the shelter I fell inlove. She has the sweetest demeanor and is the most wonderful lab ever. I don't plan on keeping her even though I've grown extremely attached to her these past few weeks. I've taken her everywhere with me. We even visited an old folks home and she made the residents smile. She's an all around amazing dog. She comes to work with me even. On thursday I drove down to minneapolis with my friend Carlie and Moira. Moira was amazing in the car, she slept the whole 8 hours there and back. I brought her to minneapolis to meet a family that I used to nanny for 8 years ago. Their black lab died 7 years ago and I thought they would love her. I think they are going to come and pick her up 2-3 weeks from now, if all goes well. So right now I have 3 dogs. Moira is terrified of stairs, she goes down them but refuses to go up them. I decided to work on this with her so I took her to the forks (winnipeg, mb) where there are stairs everywhere. We jogged up and down the stairs alot and she has gotten a bit better although she still isn't keen on going up the stairs, its so bizzare. I'm assuming either she was never allowed to go up stairs or she was never taught as a pup.

Moira absolutely loves water. I took her to the beach today as it was super hot today.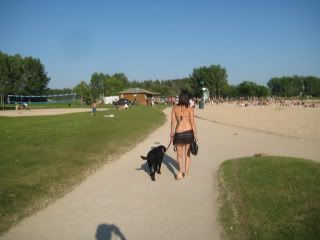 Moira and Ninja both LOVE the kiddie pool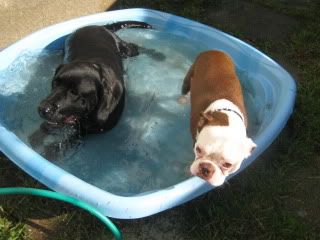 Moira on her new bed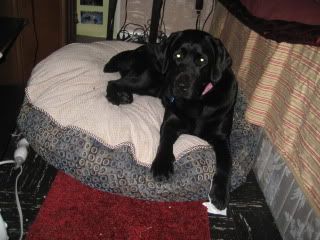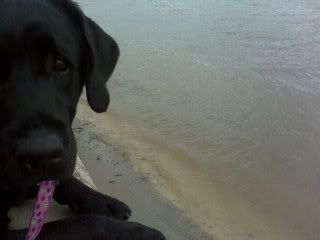 Moira at the river. (the forks, winnipeg, mb)
a href="http://smg.photobucket.com/albums/v198/Shawni/?action=view&current=moira1.jpg" target="_blank">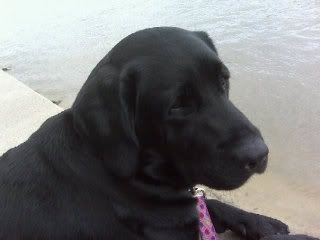 </a>



:)