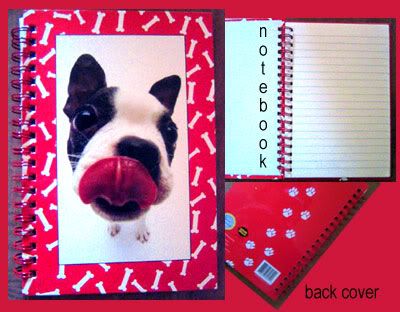 Score!! Found this cute little notebook in the dollar clearance section of Michael's [craft store]. One dollar. :)

EDIT:
I tried to find some place on the net that carries these for sale, but the product was in the clearance bins at the crafts stores...so no luck :( However, for some links and info, please . Thanks!

The link provided on the back of the book...but it doesn't look like it's been update in a while...is: http://www.hanadeka.com/

Also, the publishing company advertises the products...but doesn't have them for sale (?):
http://www.leapyearpublishing.com/hanadeka/dekastationery.html

Here's the contact info though:
Leap Year Publishing, LLC
45 Osgood Street
Methuen, MA 01844
Fax: 978.688.8899
email: sales@leapyearpublishing.com

I did find "THE DOG" collection 2005 Boston Calendar though. :)
http://www.amazon.com/exec/obidos/ASIN/1569068216/calendarconnecti/104-0979564-4771948

and of course....THE DOG
http://www.thedog-clubs.com/home.html

Regardless, all the images are hanadeka (taken with a fisheye lens). Soooo cute. :P Sorry for rambling. Hope this helps!!