YAY! here are a ton of pics of -- ALOT be warned!

this is our "Family picture" everyone got in the photo, except the parakeet, who was photoshopped in (he doesnt like people) and of course, the background etc was photoshopped in --- we like to remind our relatives in MI its a LOT warmer right now in North Carolina :)






For a few months last year, Lucy got a chance to live with my mom, her 11 year old Sheltie, Cody, my mom's two cats (skinny black one is Cricket, FAT white and black one is Ringo) and of course, our cat , the gray one, Zoey!) anyways, Cody is an old fart but she had alot of fun with Lucy's antics!





And they liked to nap, COdy wasn't allowed on the couch when she was younger, so she prefers the floor, with pillows of course!



Lucy and Zoey get along alright.... Zoey tolerates Lucy but they rarely play together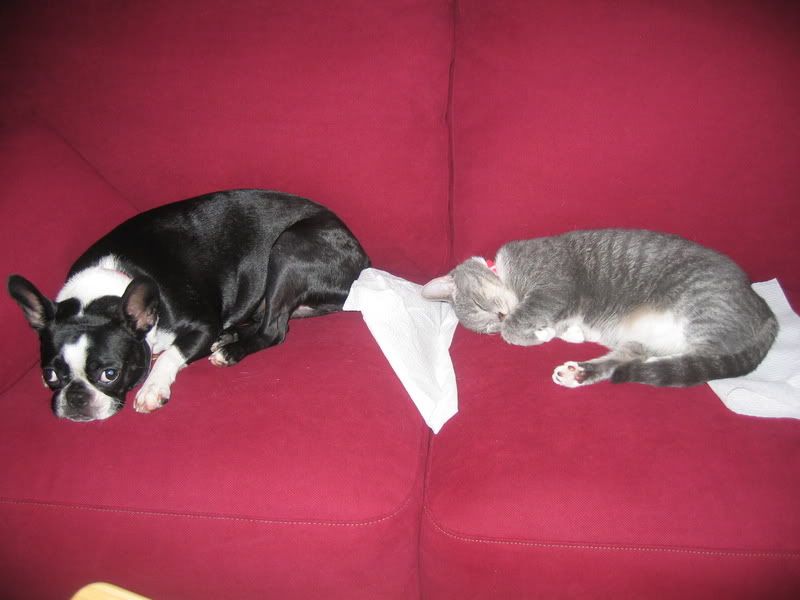 my mom's cat Ringo, who is bigger than Lucy LOVED to wrestle and chase and bat and Lucy all the time when she would visit (ringo is the dumbest cat you will ever meet, but he is sooo sweet, i say it only with pure love)





Zoey and Cricket are sisters from different litters, and Zoey moved in and became the cat ringleader (taught them how to walk the railing on the stairs, sleep on top of the fridge etc... )




This fall, we got a parakeet (not tamed...) and a sun conure, who is VERY interesting to Lucy




sorry for the picture overload, I was having a slow evening :)