Okay... so about a week ago, I saw this sad little pug face on petfinder. Something about little Frankie the pug really stole my heart and I wanted to save him from the shelter. We filled out an application, and have been waiting to hear if we've been approved. This whole week I've been having an internal struggle with myself. We have wanted a little girl Boston for such a long time now.. We've been on Shangrila's waiting list for months and months, and things have just not been going our way. One of her girls reabsorbed the fetuses early on in the pregnancy, and the next girl miscarried a couple of weeks before her due date.. so I've started to wonder if it was meant to be. That's when I started looking on petfinder.com. Then Brian and I went to a local shelter, and I started asking myself how I could possibly buy a puppy when there were so many dogs without homes of their own. That's when I saw Frankie the pugs face, and it pulled on my heart strings. I wanted to adopt him, but there were so many things I was questioning. I love pugs. Emma, my brother and SIL's pug is a doll, and Zeke adores her, but she's not a very bright dog. After having Zeke, I can't imagine not having an intelligent dog. I know all of my friends think I'm nuts.. but I love BTs.. there is no other breed like them. I didn't want to imagine not being able to get my little girl Boston.
Well tonight I get an e-mail from the shelter informing me that Frankie has been adopted. I was bummed out, but also happy that he got a home, and relieved that I might still have a chance at getting my little girl Boston in the future.. well I read on through the rest of the e-mail and this is what it said...

"Are you set on a pug? The reason I ask is that our Director has a female Boston Terrier. She was not 100% sure she was going to give her up, but she has decided she will let her go to the right home. I don't know if Karen, our Director is available on Wednesday as she is usually at the shelter until noon Mon-Fri. The weekends are usually the best. Of course she is gone the weekend you get back! Let me talk to her, that is if you are interested in Betty Boop, the Boston. I am attaching a few photos of her as a puppy. I think she is about 6 months now. She is fine with other dogs and cats. She wants to play with everyone."

Is this fate, or what????!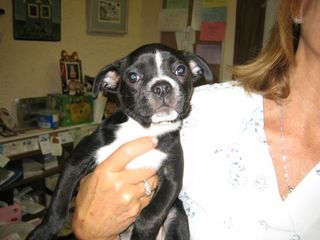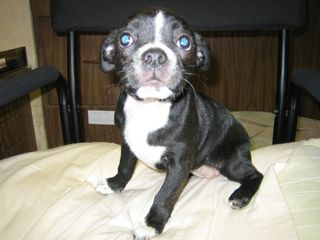 PLEASE wish us luck on getting this little girl!