since everyone is posting adorable pics of their pooches, I am joining in....the pics are a bit blurry cause I had to scan them, and the scanner isn't the greatest, sorry.


here are a couple pictures. the first three are from the big annual paws in motion dog walk for the animal humane society. It was hot that day, so they played in the paddling pools that were set up throughout the park. Its so muddy in there because of all the dogs that have gone in it, ha.


my friend Geoff and Ninja
me and amelie
the girl in the back is Janna with her boston Jack


playing in the paddling pool



they were tired after the lonngggg walk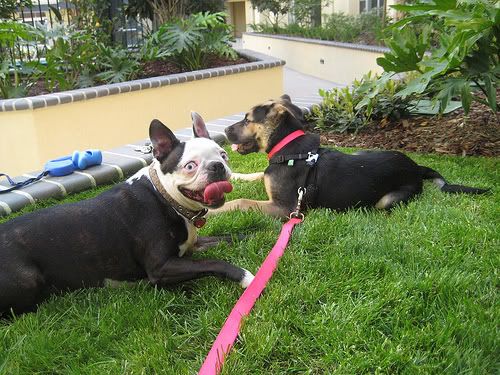 I got Ninja a hat to shield him from the sun, he doesnt mind it, and even wears it throughout the house. Its a bit big so it falls off, I think I am going to get him a size smaller.


wearing his hat while keeping a lookout




Amelie is looking out the window for her puppies. Two of the three pups, Olly the female, and Apophis the male, in her last litter came over to visit for puppy playtime after the big walk. They are as big as she is now. I am posting a picture of when they were pups so you can see how big they have grown....


Amelie (front) and Olly (back) playing together.


Apophis is a big boy now


Olly all excited to be at mommy's house



...the next day we went to the park to play with their friend Mary, a big chesapeake bay retriever, it started raining but we stayed and played the rain, it was lots of fun...


the end!