Thought you would like some more pics of the little fatty. It is crazy how much different she is than Hog. We got Hog at 6 weeks (same as lulu) and he would sleep the whole night. Maybe wake up once and I would take him out to pee. He would then usually go right back alseep for the rest of the night. Or he would want to play but you would just hold a toy up for him to chew on and he would be out.
Lulu Belle on the other hand wakes up almost every hour needing to go out!! Then when we go back to bed she bites the crap out of me. She loves my hair (I have long hair) and likes to chew on it but a lot of the times she does it she misses and bites my boob. That hurts!!! I will have to play for like an hour with her! She is so feisty. Then for the longest time Hog would not walk. He would just cry and cry and I would carry him.
Lulu marches along like it is nothing. She is sooo teeny too it is hilarious. I take Hog for like a mile walk where we live and there is Little Lu trailing behind but never stopping or crying to be carried haha.
Did you guys know that Lulu has a sister on here?? If you haven't put it together yet here she is:
Delilah who is owned by
commwife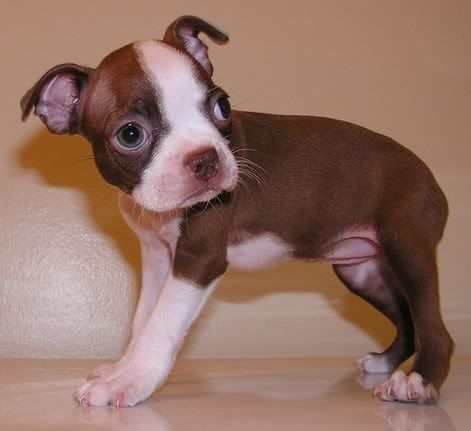 and here is Lulu Belle
I took no part in this picture. I found it on my camera. Must have been my husband's doing
A toy has to be in the bed with us at all times for when she awakes
She LOVES Hogs bed. She never goes in her own princess pink bed. Hog doesnt like it very much
I thought this was so cute. My husband was driving and Lulu would not stay on me. She just had to be next to Hog