Just curious...
Buster is 16 mos old. He has not been neutered. Mind you, every dog or cat I have ever had has been fixed as soon as possible. I was going to get Buster neutered at the Humane Society because of the low cost. I ended up on a long waiting list...anyway, it just never happened. It has not been an issue, because he's never around other dogs unsupervised. Trust me, I'm a responsible pet owner, I hear what Bob Barker is saying, and I spoil this guy like he's my child!
Now, I'm worried if I have him neutered it may change his personality, or, maybe he'll be mad at me... It's hard to think that won't have any affect. Just wondering if anyone else waited this long, and if there were any issues...
And another question, I know females need to be spayed because of health concerns later on in life, are there these same concerns for males?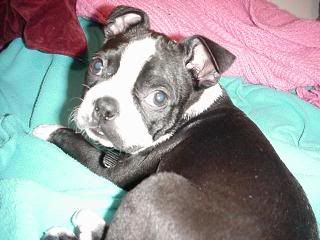 BUSTER AS A PUPPY