I'm thinking of getting 'Fetching Tags' for Zeke & Hazel as Christmas presents.. (http://www.fetchingtags.net/)

You can get a little personalized message inscribed on the front of the tag. I was thinking for Zeke, I could put 'SIR FARTS-A-LOT'... but this one is so him..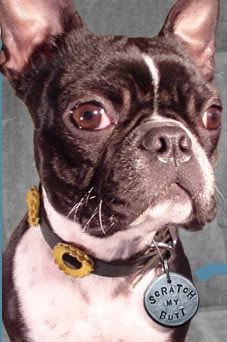 What should I get on Hazel's? I want something that really fits her. I'd like to maybe include something about her snoring, being stinky, fat, being a little sister, ect. Who knows.


http://www.fetchingtags.net/Merchant2/merchant.mv?Screen=ADD1

BALL JUNKIE
BARKER
BEACH BUM
BEAUTY QUEEN
BED WARMER
BEST FRIEND
BIG BARK NO BITE
BIG DOG LITTLE BODY
BITCH
BONE HEAD
CHAMPION
CHOW HOUND
COPILOT
COUCH POTATO
DAMN FINE DOG
DADDY'S GIRL/BOY
DISC DOG
EXPERT BODYGUARD
FEED ME
FURRY ANGEL
FLEAS SUCK
HAPPY DOG
HOUND OF LOVE
I WILL LICK YOU/HUMP YOU
KISS ME
LAP DOG
LET'S GO FOR A RIDE
LICKER
LITTLE DEVIL
LEG HUMPER
LOVE SPONGE
LUCKY MUTT
MEAT HEAD
MAMA'S BABY/BOY/GIRL
NO NEW TRICKS
ONLY CHILD
PET ME
PIGEON PATROL
PRECIOUS DARLING
PARK PUPPY
ROCK STAR
RUB MY BELLY
SALTY DOG
SCRATCH MY BUTT
SEXY MUTT/DOG
SHOW ME THE TREAT
SIDEKICK
SQUIRREL PATROL
STUD
SUPER DOG
SUPERMODEL
SWEET GIRL/BOY
TALK TO THE PAW
THROW ME A BONE
TREAT WHORE
VERY GOOD BOY/GIRL
YOU FETCH IT


If you were getting one for your pig, what would you want inscribed?