Here's the story of how this little Diddle came to be with us...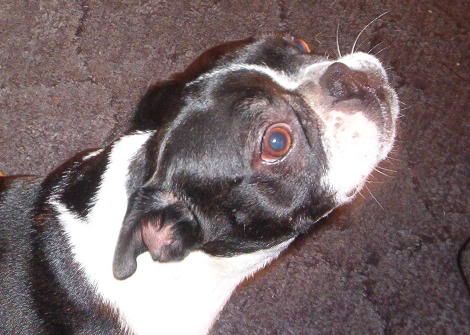 Well, it all started a long time ago with my favorite little niece, Lunchbox. We lost her a year ago and I swore then the I was going to get a Boston and name her Diddle, which was a pet name for Lunchie. The time just hasn't been right yet but we recently got a big kennel in the back for Fuffy. Fuffy is a stray we saved around Christmas time last year. She was a little bitty puppy and she grew up to be looooong. We've decided she's half basset hound. Both of them are below...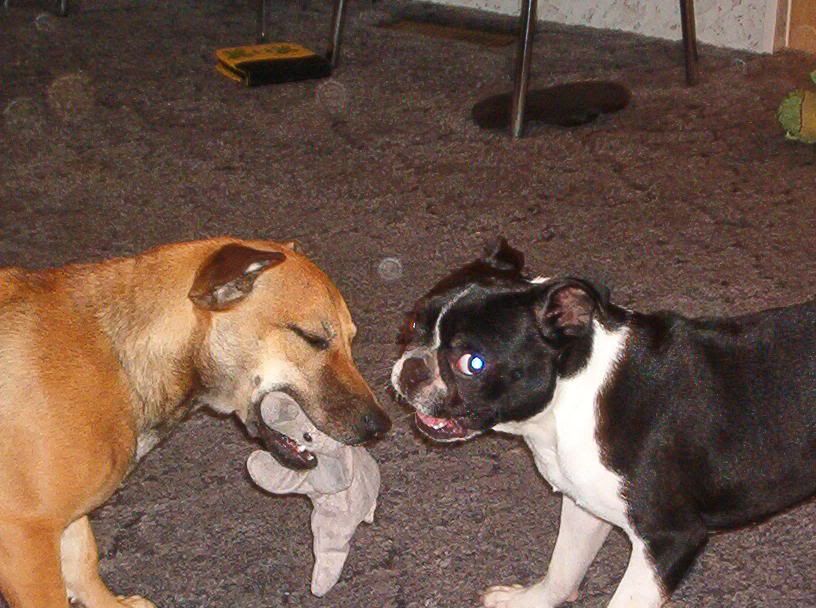 Anyway, I told Michelle before we got the kennel that as soon as we had a safe place I was getting my Boston. I started looking and I had so much trouble finding one. I wanted to save one from a shelter, but all I found were little boy dogs or 300 dollar adoption fees, which I really couldn't afford. Well, I posted an add on a Louisiana classifieds page that I was looking for a Boston and got an e-mail a few days later from a lady saying she had a 1 year old spayed female...Exactly what I wanted!!! Already spayed, close to the same age as Fuffy...she sounded great. I talked to the lady and she was going to send me pictures to decide if I wanted her. I already knew I did. Her name was Star and she was from a litter of 4. The lady was a breeder and Star's father had been their beloved baby. When he passed away they kept all 4 of his puppies. Long story short all 4 puppies came down with juvenile demodex. They were all treated and spayed or neutered so they wouldn't pass this along to any puppies. They recently decided to find a good home for her because she had such a sweet personality. They didn't want to bring her into their home because they already had three inside dogs (including her brother). Anyway...after she sent me pics i e-mailed her back saying I wanted Star...she replied saying she'd call me...and then I didn't hear from her. Well, Sunday rolled around and I was going to go ahead and call the lady when I got off work if I hadn't heard from her. I got off and called my girlfriend (Michelle) first to see what she was doing. She told me to meet her at the Wendy's near where we live and it was really important but she wouldn't tell me what it was. I'd been working on her for days trying to get her to say it was ok if I got the dog (after all, it is her house). I still hadn't gotten any kind of response from her. She knew I had found the dog, but not that I told the lady I wanted it. Well, I get to Wendy's and I see a little black and white pig running around! She had gone into my e-mail and called the lady, who just happened to be coming to town that day! It worked out perfectly!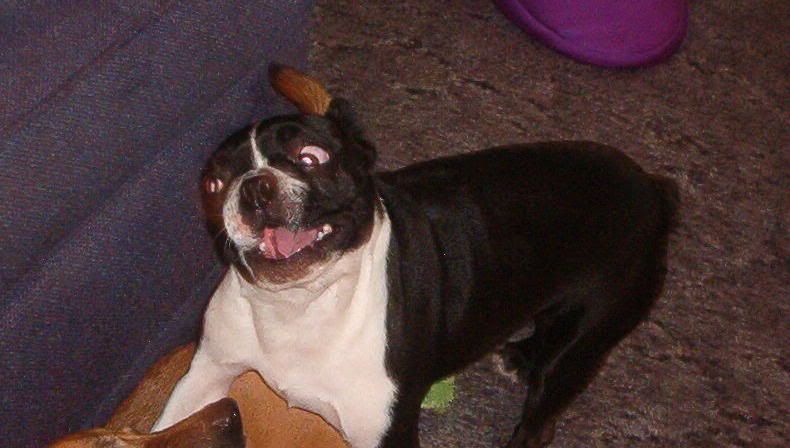 Still playing...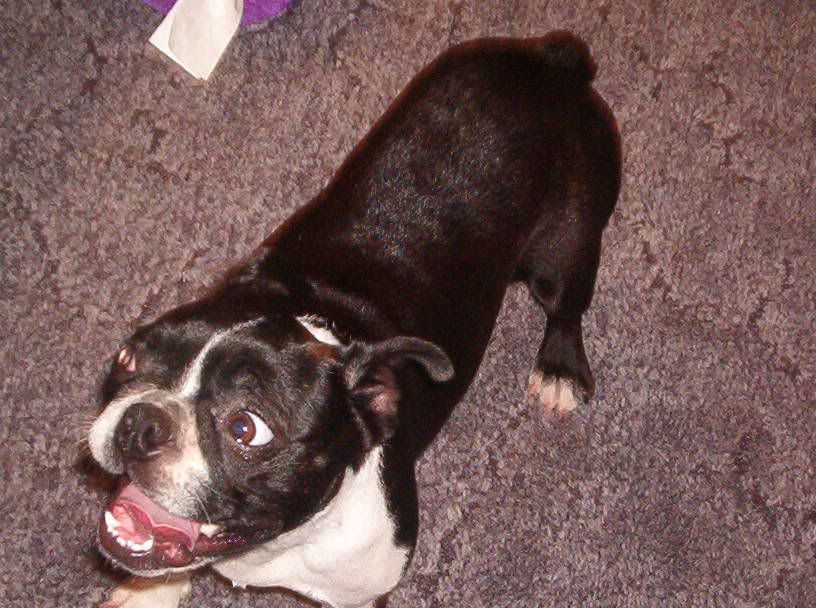 Here's the little Star/Diddle by herself...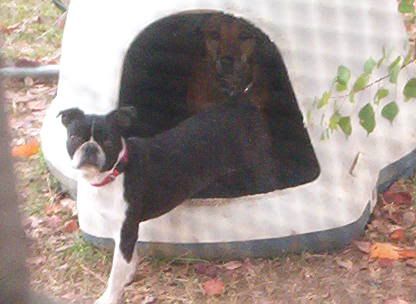 She's not house trained, so the first night we had her they slept outside...I awoke in the morning to find this...